Teleological arguments are arguments from the order in the universe to the existence of God. They are also known as arguments from design (or, to be precise, arguments to design). 
William Paley likened the universe to a watch, with many ordered parts working in harmony to further some purpose. Just as the complexity, order, and purpose of a watch implies intelligent design, he suggested, so too the complexity, order, and purpose of the universe implies intelligent design.
If the universe contains design then there must be some intelligent agent that designed it. Although a few dispute this, speaking of nature, or evolution, as our designers, this appears to be a simple linguistic truth. Just as if something is carried then there must be a carrier, so if there is design there must be a designer.

(1) The fine-tuning of the universe is due to either physical necessity, chance, or design 
(2) It is not due to physical necessity 
(3) It is not due to chance 
(4) Therefore, it is due to design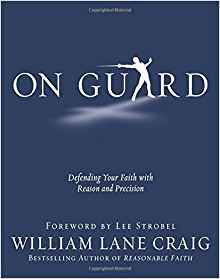 A great introductory book on apologetics and recommended for beginners. This book introduces you to the evidence for the fine-tuning of the universe providing an argument, and how to defend it. This book also comes with a study guide
If you want to be familiar with the scientific discoveries that support the evidence for a personal creator, then this is your book to understand purposeful origin and development
If you have read On Guard, then this is the level up and may feel quite a leap in terms of depth. Here you will get a fuller, more in depth case and defence of the arguments you learnt about in On Guard with more in-depth analysis of opposing theories. This book also comes with a study guide
A level up from Reasonable Faith book and is very much aimed at scholars and serious students of natural theology. If you want to get into the serious arguments defending Christianity, this is the place to look, but be prepared for a complex read, even if you're quite comfortable on the Fine-tuning argument material so far.
Taken from Defenders, William Lane Craig's class on the Fine-Tuning argument in four lessons
Here Guillermo Gonzalez goes through the argument from fine-tuning in-depth providing you the argument, the data behind it and the conclusions we can make from it.