Objective
Moral values and
Argument duties
Moral arguments take either the existence of morality or some specific feature of morality to imply the existence of God. It is only if God exists, the moral argument suggests, that the moral facts could be as they are, or even that there could be any moral facts at all. There are several different forms of moral argument, here We'll focus on a simple form.
(1) Objective moral valuers and duties exist 
(2) But if God did not exist, objective moral values and duties would not exist. 
(3) Therefore, God exists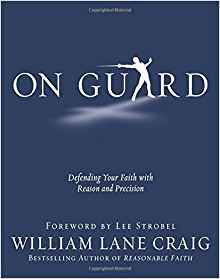 A great introductory book on apologetics and recommended for beginners. This book introduces you to the moral argument on how to state and defend it. This book also comes with a study guide
If you have read on Guard, then this is the level up and may feel like quite a leap in terms of depth. Here you will get a fuller, more in depth case and defence of the arguments with also a more in-depth analysis of the opposing theories. This book also comes with a study guide
A level up from Reasonable Faith book and is very much aimed at scholars and serious students of natural theology. If you want to get into the serious arguments defending Christianity, this is the place to look, but be prepared for a complex read, even if you're quite comfortable with the moral argument material so far.
Taken from Defenders, William Lane Craig's class on the Moral argument in five lessons
Paul Copan delivers the moral argument for God's existence in an extensive essential lecture for the Christian.