Kalam
cosmological Argument
The Kalam cosmological argument is an argument from the existence of the universe pointing to the existence of God. The existence of the universe, such arguments claim, stands in need of explanation. The only adequate explanation, the arguments suggest, is that it was created by God. What distinguishes the Kalam cosmological argument is that it rests on the idea that the universe has a beginning in time. According to this argument, it is precisely because the universe is thought to have a beginning in time that its existence is thought to stand in need of an explanation.
(1) Everything that has a beginning of its existence has a cause of its existence. 
(2) The universe has a beginning of its existence. 
(3) The universe has a cause of its existence. (If the universe has a cause of its existence then that cause is God and therefore God exists).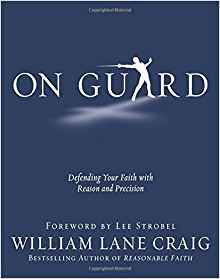 A great introductory book on apologetics and recommended for beginners. This book introduces you to the philosophical and scientific evidence for the Kalam Cosmological argument, how to state and defend it. This book also comes with a study guide.
If you have read On Guard, then this is the level up and may feel quite a leap in terms of depth. Here you will get a fuller, more in depth case and defense of the arguments you learnt about in On Guard. This book also comes with a study guide
This is a level up from the Reasonable Faith book and is very much aimed at scholars and serious students of natural theology. If you want to get into the serious arguments for defending Christianity, this is the place to look, but be prepared for a complex read, even if you're quite comfortable on the Kalam material so far.
Taken from Defenders, William Lane Craig's class on the Kalam in six lessons.
Here, Dr. Doug Geivett teaches on the Kalam Cosmological Argument for God's existence. His presentation is followed by a period of Q&A from the audience.
Questions & responses to the Kalam